About Kilifi County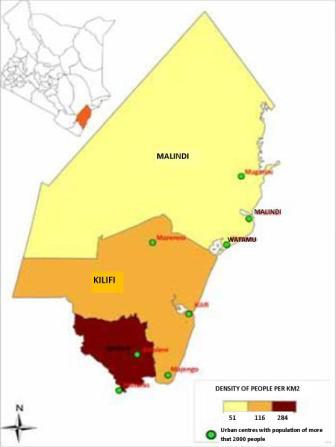 General Information
Kilifi County covers a total surface area of 12,610 km2 and accounts for 2.17 per cent of Kenya`s total surface area. It borders the counties of Tana River to the North, Taita Taveta to the West, Mombasa and Kwale to the South and the Indian Ocean to the East.

More than half of the land in Kilifi is arable, however only 31% of the farmers hold titles to their land. Maize and cassava are the main subsistence crops grown in the County. The main cash crops grown in the county include coconuts, cashew nuts, sisal and citrus fruits such as mangoes and pineapples.

Although many health facilities exist within the county, these are unevenly distributed and mainly located along major roads. The lack of permanent health workers operating within the communities reduces efficiency levels in the delivery of medical services. The major health facilities in the county are as follows:

number, 51% are men while 49% are women. There are 418 primary and 86 secondary schools catering for an estimated 256,000 and 22,500 students respectively. There are 13 youth polytechnics, one college and a University campus.
Constituencies
Kilifi North; Kilifi South; Kaloleni; Rabai; Ganze; Malindi; Magarini