About Elgeyo-Marakwet County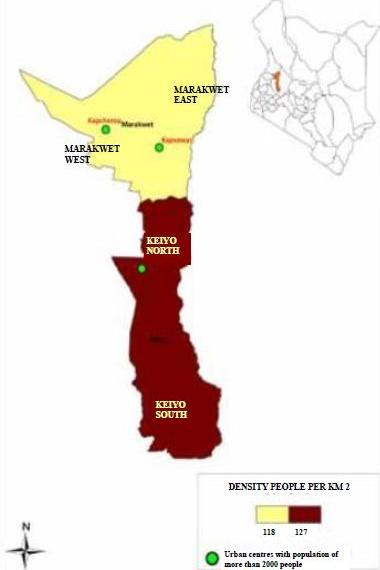 General Information
Elgeyo Marakwet County covers a total area of 3029.9 km2. It borders West Pokot County to the North, Baringo County to the East, Trans Nzoia County to the Northwest and Uasin Gishu County to the West.

The county is divided into three topographic zones namely: The Highlands, Kerio Valley and The Escarpment: all of them separated by the conspicuous Elgeyo Escarpment.

The Highlands constitutes 49 percent of the county`s area and is densely populated due to its endowment with fertile soils and reliable rainfall.The Escarpment and the Kerio Valley make up 11percent and 40 percent respectively. There is a marked variation in amount of rainfall in the three zones; The Highlands receive between 1200mm and 1500mm per annum while The Escarpment and the Kerio Valley receives rainfall ranging between 1000mm to 1400mm per annum.

In altitude, the Highland plateau rises from an altitude of 2700 meters above sea level on the Metkei Ridges in the South to 3350 metres above sea level on the Cherangany Hills to the North

Administratively, the county is divided into four sub-counties, namely: Marakwet East, Marakwet West, Keiyo South and Keiyo North each with several Divisions, Locations and Sub-locations.

Politically, the county is divided into four constituencies: Marakwet East, Marakwet West, Keiyo South and Keiyo North and twenty Wards; six in both Marakwet West and Keiyo South and four in Marakwet East and Keiyo North.
The county`s total population was 370,712 in 2009 (National Population and Housing Census). The 2012 population projection was 401,989. The inter-census population growth rate for the county is 2.7 percent per annum.

Keiyo North has the highest population density of 148 persons per km2 while Marakwet East has the lowest with 109 persons per km2. Keiyo South and Marakwet West have 132 km2 and 146 km2 respectively.

On poverty levels, human development indicators show that the county has 57 percent of residents live below the poverty line compared to the national poverty level of 46 percent.

The levels of poverty in the county are geographically distributed. At the Escarpment and The Kerio Valley, poverty levels are as high as 67 percent of the population while in the Highlands poverty levels average 47 percent.
Constituencies
Marakwet East; Marakwet West; Keiyo East; Keiyo South