About Kiambu County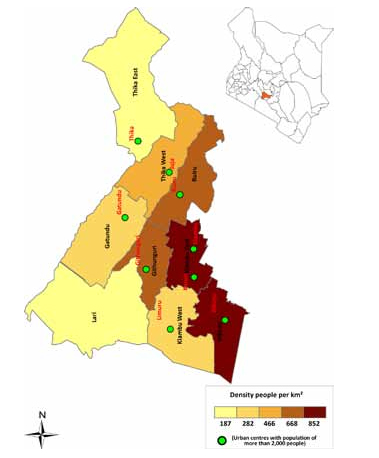 General Information
Kiambu county is located in Central Kenya and comprises 12 constituencies namely:
Lari.
Juja.
Ruiru.
Kikuyu.
Limuru.
Kabete.
Kiambaa.
Githunguri.
Thika Town.
Kiambu Town.
Gatundu North.
Gatundu South.
The County was first set up in 1925, as Kiambu Native District Council, later changing to Kiambu African Native Council in 1958. It finally gained its official name `Kiambu` borrowing from resultant screams arising from tribal raids conducted by the Maasai, who often raided the villages for livestock.
Agriculture
Kiambu is characteristic of fertile soils and plenty of rainfall. There are numerous high potential small holder farms, which pack enough potential to not only feed the county, but also supply Nairobi, Kitui and Kajiado with dairy products, foodstuffs, green vegetables and fresh fruit. Kiambu`s horticultural products, coffee and tea, contribute for a lot in Kenya`s foreign earnings.
Popular Attractions
Towards Kijabe and Kimende, one gets an opportunity to view the Kenya`s renowned Rift Valley escarpment. These combined with the Mau Mau Caves, Paradise Lost, Chania Falls, Fourteen Falls, Mugumo Gardens, Christina Wangare Gardens, all provide Kiambu with one of the highest tourist potentials in Kenya.
The County is also a home to many urban centres geographically positioned. With its small surface area of about 2,500 square kilometres, Kiambu is perhaps one of the most urbanised counties after Nairobi, Mombasa and Kisumu.
Industrial Hub
In addition to the county`s entrpreunership potential, towns like Kikuyu, Limuru, Ruiru and Thika are home to manufacturing factories, mining, textile and major industrial assembly plants. These have all seen tremendous growth in recent years, providing good commercial opportunities to residents and investors investors alike. They also attract cosmopolitan workers, who enhance the conty`s national and cultural integration, something many counties might never enjoy.
Real Estate Potential
Kiambu is a dormitory zone to the overstretched Nairobi County, as many of its inhabitants; prefer to seek accommodation in the affordable urban centers located within Kiambu, and therefore commute to Nairobi daily. This has spelt a boom to Kiambu`s property prices and residential investments over the years. Moreover, many residential estates are now emerging at a fast rate just off the Thika Super Highway.
Aside from Thika town, which commands a major residential periphery, Ruiru, Kiambu, Ruaka and Kikuyu towns are all arguably Nairobi`s unsung locations for prime residential estates in the county. Good security, physical and social infrastructure, are just but the few incentives that give these premium properties impetus as excellent sources of revenue and living.
Population
According to the general information 2009; Kiambu County has a population of 1,623,282, with a surface area of 2,543 SQ KM and a density of 638 people per SQ KM. It has a 60.8% of the urban population.
Constituencies
Gatundu South; Gatundu North; Juja; Thika Town; Ruiru; Githunguri; Kiambu; Kiambaa; Kabete; Kikuyu; Limuru; Lari