About Embu County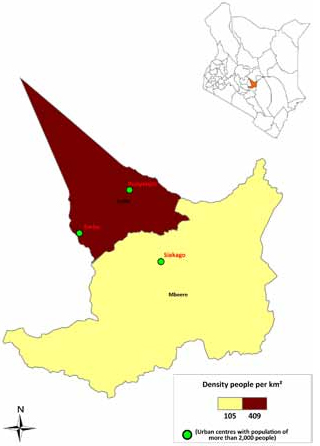 General Information
Embu lies on the windward slopes of Mt. Kenya. It remarkably occupies the most prime fertile lands of the Kenya highlands. The forest cover hosts a great number of flora and fauna. There are two seasons enjoyed each year and the weather is quite favourable for diverse agricultural activities. Instances of drought or famine are extremely rare.

With sufficient water resources, agriculture is prevalent owing to existence of several rivers that flow through the county. Considering the conservation measures that are in place, the county is projected to become water secure with the consequent rise in both agricultural production and household incomes.

Because of it`s location at the foothill of Mount Kenya, the county`s temperatures are estimated at an average of between 9°C - 28°C. The county receives substantial rainfall with average annual precipitation of 1206mm.

The wettest season is experienced between March and July while the hottest comes between January and mid March. Much of the land is largely arable and is well watered by a number of rivers and streams.
Constituencies
Manyatta; Runyenjes; Gachoka; Siakago