About Machakos County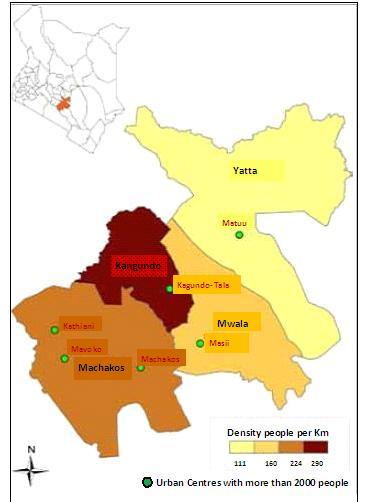 General Information
Machakos County, nicknamed `Macha,` was the first capital city of Kenya and now, it is an administrative county in Kenya. Machakos has eight (8) constituencies including Machakos Town, Mavoko, Masinga, Yatta, Kangundo, Kathiani, Matungulu, and Mwala. Machakos Town is the administrative capital of the county.

Machakos County borders Nairobi and Kiambu counties to the West, Embu to the North, Kitui to the East, Makueni to the South, Kajiado to the South West, and Murang`a and Kirinyaga to the North West. Machakos County stretches from latitudes 0? 45` South to 1? 31` South and longitudes 36° 45` East to 37° 45` East. The county has an altitude of 1000 - 1600 meters above sea level.

It has a Total Population of 1,098,584 people, 264,500 Households and covers an area of 6,208 SQ. KM. The Population density is 177 persons per SQ. KM. The Akamba people are the dominant habitants of Machakos County.

The local climate is semi arid with a hilly terrain covering most parts of the county. The beautiful hilly scenery is perfect for tourist related activities such as camping, hiking safaris, ecotourism and cultural tourism, dance and music festivals among many more. A number of establishments ensure the region has a well rounded hospitality industry.

Subsistence agriculture is practiced with Maize and drought-resistant crops such as sorghum and millet being grown. However, the County also plays host to the open air market concept with major market days where large amounts of produce are traded. Fruits, vegetables and other food stuffs like maize and beans are sold in these markets.

The county has been selected as the home to the upcoming Konza Technology City due to its proximity to Nairobi, good infrastructure and availability of massive chunks of land. Machakos County, Nairobi`s Eastern neighbour, is home to important industrial and residential centers like Athi River and Mlolongo. Sadly, the developments do not extend to most parts of the huge county, but that is about to change when a planned technology city development is finalized.

Down the road from the junction town of Makutano ya Chumvi will be what is billed as the continent`s first techie city. Built to the book, it will become the world`s third IT magnet after Silicon Valley in California, USA, and Bangalore in Eastern India. This project will attract talent from all over the world through a range of incentives, and it is planned to have state-of-the-art shopping facilities as well as a university.
Constituencies
Masinga; Yatta; Kangundo; Matungulu; Kathiani; Mavoko; Machakos Town; Mwala